Add your Badge to your website
Show your Bestr Badges on your professional website: a step by step guide
July 31, 2017
---
Do you have a website that presents your business activity? Would you like to be able to display everything you know how to do in such a way that partners and clients can see what it's about, how and where you learned it, how you demonstrated it, assess its value and verify its validity? The Open Badges are the answer to all this.
A Badge on your website is like giving a voice to the company, to the trainer, to the association where you developed your competence and allowing them to testify to your command of the competence.
An Open Badge is a png image with metadata that can be read and verified from any platform that supports the standard, but - to make them easier to read - the Badges issued by Bestr also have a web page, the award, which expresses the same contents. The best way to show a Badge is to show the image of the Badge with the link to your award.
To make everything more simple, Bestr now features an "embed" key, which generates the html code to enter on your web page to show your Badge and link it to your award on Bestr.
1- Enter Bestr with your user and go the "My Badges" page
Go to Bestr and select Login from the menu on the top right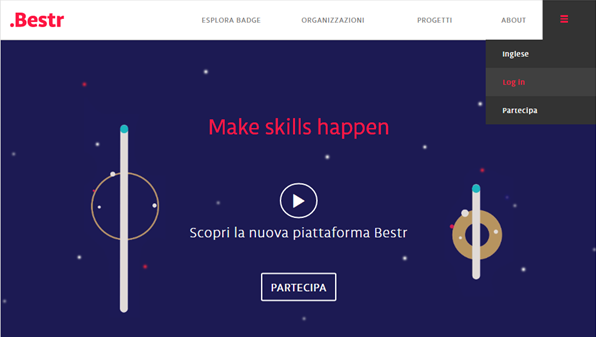 Now the menu on the top right will have your initials.
Select the item "My Badges" from the menu.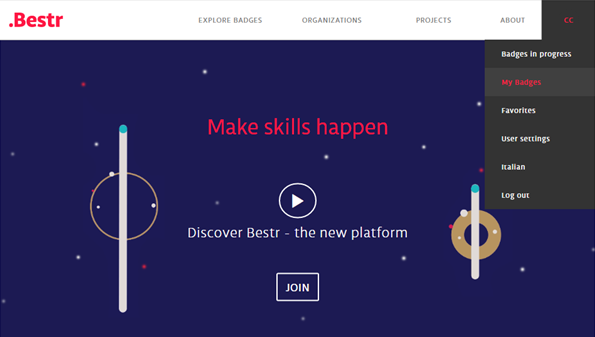 2- Choose the Badge you want to add to your site
On the "My Badges" page you see all the Badges you have earned. Click on the image of the one you want to add to your site.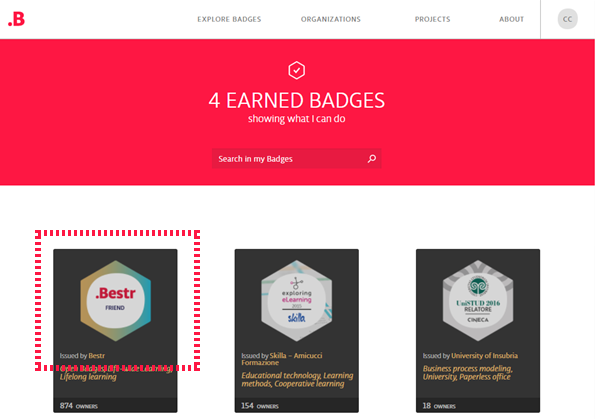 3- Click on the "embed" icon
You will now be on your award page: the Badge dedicated to you, showing the information about you and your acquisition of the Badge. The address of this page is public: you can give it to anyone who wants to see your Badges.
Below the "Add to LinkedIn profile" you will find all the icons to share your Badges on Twitter, Facebook, Google+, LinkedIn, e-mail, to add it to your site and – for selected Badges – to print.
The icon to obtain the HTML code to add the Badge to your site is the one formed by angle brackets: <>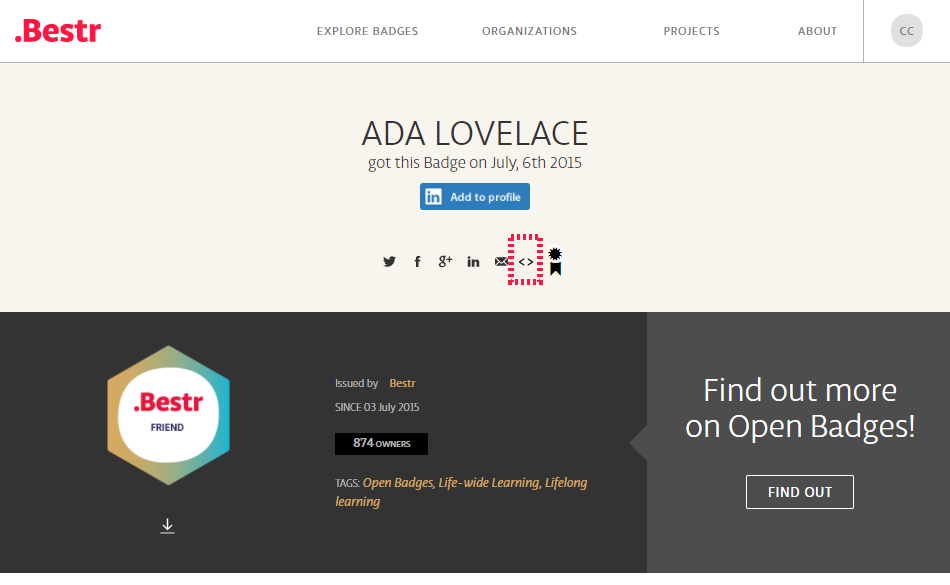 Clicking on the embed icon copies the required code to your clipboard, as notified by the alert message: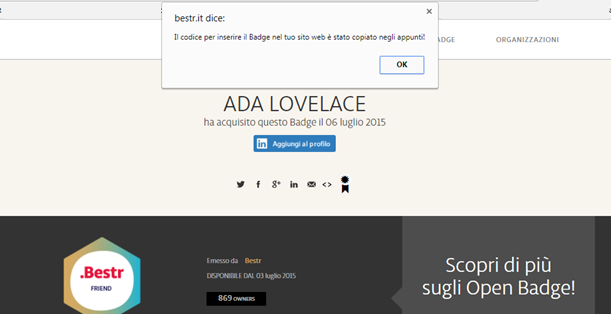 4- Paste the code on to your site
Now you can paste the code on to the page of your site where you want to show your Badges.
The Badge is shown with its image and the beginning of the description; clicking on the image takes the reader to the award page.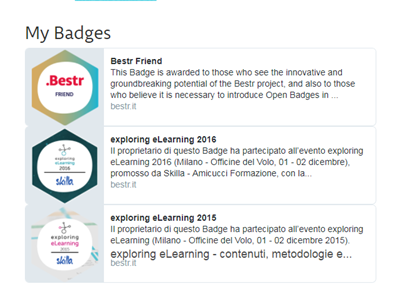 Congratulations! Now your Badges are visible on your site: it will be easier for your clients and collaborators to appreciate the correct value of your competencies.