Become a TEDxBologna Thinker
Listen to a TED Talk, think, share your thoughts using TedEd, and get an Open Badge that demonstrates your curiosity and interest!
October 30, 2015
---
How does it work?
Go on TedEd. Already have a TED account? No? Then create it, in just a minute!
Choose to Create a Lesson.
Find the video of one of the presentations of the various editions of TEDxBologna. Remember the title or the person who struck you particularly ... otherwise search for "TEDx Bologna" and find inspiration!
Build your lesson from a talk: make questions, add insights, and suggest ideas for discussion.
Save the lesson and share it! Do not forget to share it with us via Twitter @joinBestr and @TEDxBologna; or write to info@bestr.it
What do I get?
You get an Open Badge presenting you as a "TEDxBologna Thinker".
An Open Badge is an image that contains metadata talking about you: it tells what you do - what you have shown that you can do. An Open Badge represents your own skills, attested by those who assign the Badge. Learn more about Open Badges.
When we look at your lesson, we will contact you and you will receive your Open Badge by email. To take it, you will need to join Bestr from the link in the email. You can share your Badge on social networks and add it to your LinkedIn profile.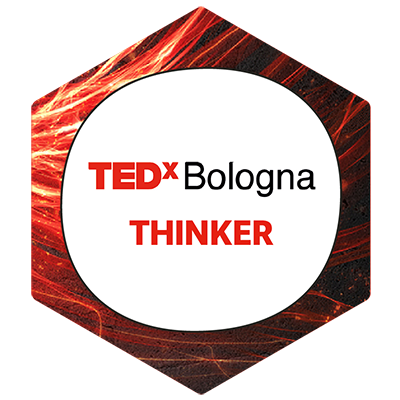 What is Bestr and what does it have to do with TEDxBologna?
Bestr is the Italian platform for the creation, research, allocation and sharing of Open Badges. On bestr you can find badges representing skills that you can get or show that you have: getting the TEDxBologna Thinker badge proves that you are able to think, know how to learn, and know how to ask questions.
TEDxBologna has chosen bestr to assign Badges to Speakers, so that they can also have this digital tool as a witness to their "enterprise", and also to the public, making it possible to qualify as a Thinker.
For now the Speaker Badges concern only the 2015th edition, while for reflection there are no limits: you can get inspiration from talks given in any edition.

How do I add the badge to my Linkedin profile?
When you withdraw your badge you will have a page dedicated to you, with your name and the date in which you earned the badge.
Click the button "Add to Profile":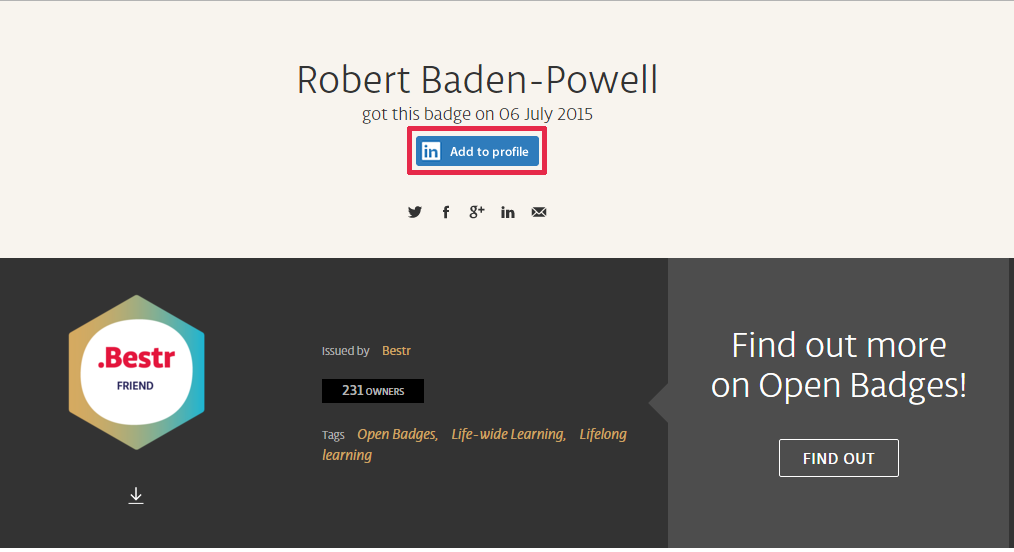 Linkedin will ask for your ok: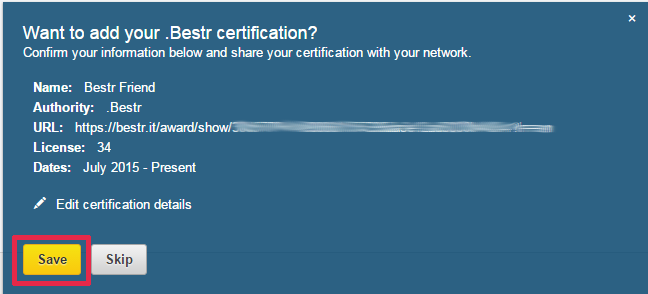 The badge will appear on the profile between certifications: